CUSTOM COLORED BASKETBALLS FOR SCHOOLS, TEAMS AND BASKETBALL CAMPS:

Custom colored basketballs are manufactured according to your color specifications. Opposite side printing of the same logo is free. You provide the Pantone (PMS) color numbers and we will create the custom colored basketball for your approval. We offer free virtual samples of the basketball for your approval.

Which items can be custom colored? All colors can be customized to you specifications. This includes:

The seam separating each panel. Generally, the seam is black colored, however, the color can be easily changed to suit your requirements. When printing across two panels, the colored seam is not included.

Each basketball has eight panels. Each panel can be customized as necessary. Please indicate the PMS color number for each panel. Usually, our customers choose alternating panel colors as shown below.

Your logo colors can be specified. We can spot print the logo or use a four-color process print. Once your e-mail your logo to us, our Sales Department will provide a quotation for your custom colored basketball.

Can the basketballs be used for actual play? Our basketballs are manufactured using premium rubber material. These balls can be used for actual play or for sports team promotions and corporate giveaways. The 7" Mini Basketballs are popular for giving away at basketball games. The minimum order for any size of custom colored basketball is 100 balls.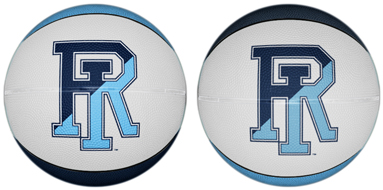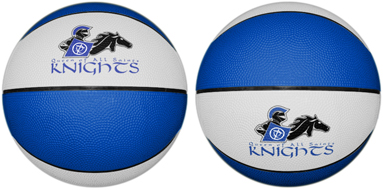 COLORS: All colors should be specified by PMS color number.
SIZES: 9.5" Official (29.5") - 9" Intermediate / Women's (28.5") - 8.5" Junior - 7" Mini - 5" Kids - 4" Micro
MINIMUM QUANTITY: 100 Basketballs
LEAD TIME: 50 days
RUSH LEAD TIME: 25 Days if we use air freight
PRICING: Please visit our Pricing Page

How to order custom colored rubber basketballs for basketball camp:

1. Send us your logo and color choices to receive a FREE Virtual Sample.
2. Provide the billing and shipping addresses for your order.
3. Tell us the basketball size and quantity for your order.

Please email your order specifications to our Sales Department.

We are happy to help you create a custom colored basketball for your school or sports team. All basketballs are created with the colors that you provide.